Bush's Head Suffers Damage
At Madame Tussaud's wax museum in Las Vegas, that is:
"Bush's head suffered about $25,000 in damages when a Madame Tussaud's visitor attacked it the day before last week's elections.
No one's pushed one over before," said Jack Taylor, spokesman for the tourist attraction.
Bush has needed repairs a number of times, mostly from having his nose pinched, Taylor added."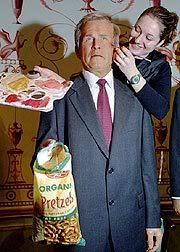 thanx to Wonkette